Synthetic
Monitoring|Providing
complete
view
of
application
performance
across
the
entire
delivery
chain
Why
Synthetic
Monitoring?
For a large part, user satisfaction of cloud services and business applications depends on their overall performance and availability. Monitoring application performance end-to-end provides the perspective and experience of the user rather than concentrating upon traditional quality of service metrics such as the network, database, telecoms provider etc.
The b4 Bot is a fully automated "User" with mouse click and keyboard, which regularly and continuously performs checks on your most critical services. Those measurements take into account all of an application's technical components from the end user's workstation right through to the application. In this way, they are representative of the quality of service received by end users.
---

Potenzial RPA
The focus of synthetic monitoring is on the availability and performance of applications from the user's perspective, something that can not be mastered with traditional network monitoring systems alone. Synthetic monitoring solutions, such as the b4 Bot, simulate and measure real user activities, and report on performance issues before they can become mission-critical.

Synthetic Monitoring as a QM-Tool
Updates and migrations of integrated business applications can be sustainable on the productivity of the entire company. It is therefore advisable to test the application process after such changes before the actual rollout.

Compliance
Binding SLAs define which service quality is to be provided for each application. Synthetic monitoring with b4 delivers reliable, validated key figures for application operation and allows thus to document compliance with all relevant compliance requirements.

E-Shop Optimisation
A company's ecommerce website has to meet many requirements: user-friendly interface, no vulnerabilities, up-to-date content, and more - A key factor is your own IT: How reliable can business transactions be handled using digital technologies? The operation of the internet platform should be constantly monitored. AmdoSoft sets up a virtual user for its customers, the operator of the ecommerce offering, who does more than just monitor it.

IT Image
Synthetic monitoring helps to demonstrate SLAs and availability of applications and services, and is the perfect technology to detect and proactively address bottlenecks and quality issues.
ADVANTAGES
Avoiding SLA injuries and penalties

Detecting vulnerabilities along a service chain

Possibility of proactive initiation of countermeasures

Increasing end user / customer satisfaction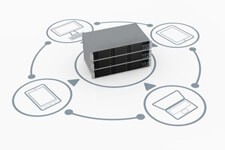 b4 SYNTHETIC MONITORING
Monitoring availability and performance of applications / services from a user perspective

Review from multiple locations

Support for all common and self-developed applications

Continuous simulation of complex test steps

Fast deployment and configuration
Highly secure facility

Intelligent notification via e-mail or SMS

Audit-proof logging and long-term archiving of the data

Performance, availability and error messages

Performance trends over day / week / month / year

Screenshots and logged performance data
How we do this?
We train our b4 Bot to simulate the operation of a real user on the computer.
In doing so, he objectively checks and measures the user experience, collects and correlates all relevant data, alerts and informs you in real time.
Errors and their sources are identified more quickly and performance issues can be proactively resolved before becoming business critical.
Your benefit
Central monitoring

Management and IT View

Live view of b4 Bot activities

Insight into performance and availability of the IT service (not just the IT systems)

Performance problems are made visible

KPIs from other systems can be taken into account through interfaces

Reduction of monitoring costs